Description
The aeration Panel is a Flat membrane, ultra fine bubbles diffuser, made of Polyurethane.
KEVIVA officially distributes the Messner Aeration Panel for he South America Market.
RUDOLF MESSNER UMWELTTECHNIK with its headquarters in Adelsdorf- Germany has established itself over the past decades as a successful company in the biological process and aeration technology for municipal and industrial wastewater treatment plants.
Aeration at its finest!
Efficiency and quality are among the most important features of modern aeration systems to operate biological wastewater treatment plants economically and ecologically. We will meet these requirements with our aeration systems particularly that correspond the state of the art with their optimal integration into the procedural cleaning process, including their machine technology.
In the meantime, MESSNER aeration technology has proven itself for over 25 years in municipal and industrial wastewater treatment plants of different sizes and under different operating conditions. The MESSNER aeration technology mainly consists of the MESSNER Aeration Panel and the related downpipes including ball valve and a pressure relief equipment. By default, each aeration panel is connected with a separate HD-PE pipe (DN32) via a ball valve to the above-water air distribution.
Assembly of the MESSNER Aeration Panel can proceed in two ways:
-Fixed installation on the tank floor

-To be lifted out on a frame
Fixed Installation
In general, the installation of the aeration system is applied directly to the tank floor. By attaching the MESSNER Aeration Panel directly to the tank floor a maximum depth entry and thus an optimal oxygen utilisation are achieved. Any irregularities within the aeration tank can be levelled by elevation of the plates if required.
Lift Frame
If particularly required, the aeration system with the MESSNER Aeration Panel can be designed as a construction which can be lifted. This results in the option to:
-Install the aeration system in the filled aeration tank also during operation.

-Lift the aeration panels out and in (in groups) in the event of a fault without draining the aeration tank.
Area Layout
The area layout of the MESSNER Aeration Panel depends on the tank size, the tank form and its floor coverage. For floor coverage from approx. 20% of the tank no separate mixing devices are required to avoid deposits.
Energy Efficiency
More than 60% of electricity consumption of a treatment plant are attributable to its aeration tank. In these cases, efficient aeration systems and customised control strategies for process engineering and intelligent control units help to significantly save energy.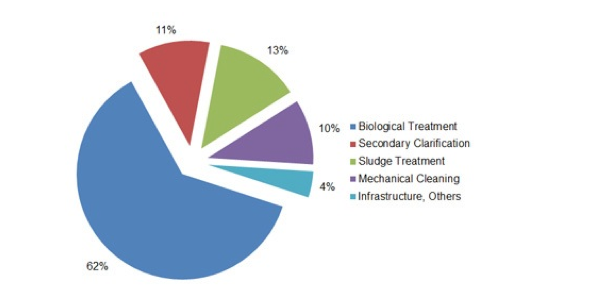 The biological treatment level with aeration and circulation represents the largest potential for energy savings of a municipal wastewater treatment plant.
Starting Points for Energy Saving:
-Area-wide, close to the ground diffuser arrangement (about 20%)
-Low air admission flow of the diffuser elements
-Replacement of agitators by aeration pulses (RMU Air Pulsing)
-Optimised dimensioning and operation of the blowers
-Reduced pressure loss through automated diffuser maintenance
-Use of permanently elastic membrane materials without additives (TPU)
-Load-dependent oxygen entry control
-Conversion of process engineering to RMU Plug Flow Technology
MESSNER Aeration Panel®
The proven MESSNER Aeration Panel, equipped with a permanently elastic, low-maintenance, non-clogging membrane of thermoplastic polyurethane (TPU) contains no plasticisers or other additives and is suitable for continuous and intermittent operation in aeration tanks of municipal or industrial wastewater treatment plants.
Product: MESSNER Aeration Panel®
Type: V20M50
Dimensions (L x W): 2,0 m x 1,0 m
Active membrane area: 2,0 m²
Air flow: 40 m³N/h per diffuser
Max. wastewater temperature: 30,0 °C (higher temperatures upon request)
PLEASE CONTACT US FOR THE COMPLETE SPECS FOR YOUR APPLICATION
+ 1 801 766 0625
Head Office and Manufacturing Plant
3333 W 1500 N, Lehi UT 84043 – USA
+55 41 3019-3545
Branch office and Manufacturing Plant
Rua Augusto Zibarth 393
85560-360 Curitiba PR – Brasil